The power of the dark side is strong with this kit!
I couldn't resist any longer and so, with extra parts arriving on a daily basis I've started.
The first thing I wanted to look at was the main gun. RB Models's Pak 43 88mm /L71 dropped through the letterbox and so, removing the barrel from the sprue I lined it up and....
There is a discrepancy in the barrel length but it is hardly noticeable. Also, more noticeable is that the kit barrel is noticeably thicker towards the muzzle. I had to alter where the plastic barrel fits into the mantle but that's just lots of dry fitting and a very sharp knife. Once built up fully and painted then it will add to the overall look of the kit.
I would also like to introduce you to the actual colour of the base coat used on these tigers with series turret and zimmerit.
Now the decals in this kit provide for this actual tank:
Here is another photo of this Tiger II from the Pz. Abt.503. someone has "colorised" it. If you look close and compare the colours with the actual black and white image you can see that the tank colours in the colourised version do not match the shades, which are darker. Also the actual B&W image cannot distinguish between the red-brown and green of the disruptive pattern, althjough for some reason the "colourised" version has. The clothing colour of the soldiers is very close to the real thing but you must make allowances for combat clothing and the stuff they and their wearers go through.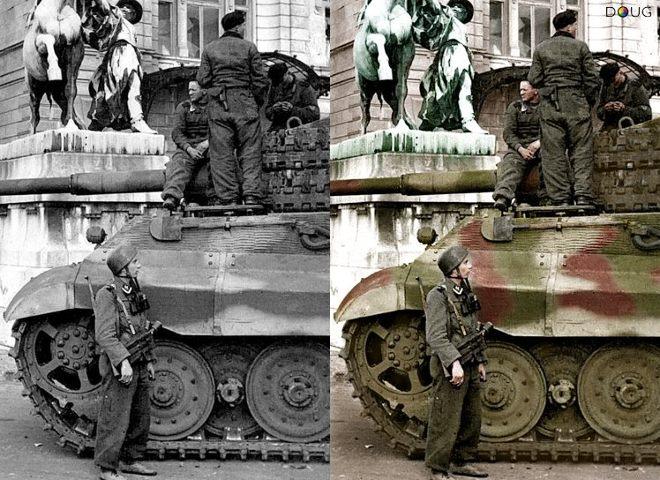 If you look carefully at the black and white image and then, ignoring the colourised, take the base coat from my Tiger II and compare it, it is much closer to the photographs that the almost white used by the colourised images. with that particular shade used in the colourised image it should be the same on the B&W image.... and it isn't!
Those that say they can tell an actual colour and shade from a B&W picture taken in wartime they are lying through their teeth. Due to the constraints of film, camera, lighting etc it is impossible. We can get an indication of pattern etc, but to get the colours you have to go into the archives and research that tank back to the factory and not only the factory notes but the regiment it was assigned to and their maintenance records. Also you have to research the paint batch back to the manufacturer which today is still producing paint and has an impressive archive of every batch of paint produced and a colour sample of that batch.
So, using akan's paints we can successfully paint this Tiger the correct colours inside and out!