Here are some of the items I use for rigging. They are not specifically for model makers, more for knitting and sewing and other womanly things
This is a set of crochet needles that I use to pull the thread through awkward places.
My other offering to help with rigging is a finger drill and BEADING needles.
First tip search the family sewing/craft box for these needles, if after a thorough search none can be found to liberate then toddle off to your local craft shop.
I keep a supply of pointed and blunt. The pointed are good for sewing the sail to the yards, and the blunt ones are perfect for getting the rigging cord through blocks.
As can be seen in the above photo the finger drill is just a small dowel with a drill bit sunk into it. That particular one is 0.7mm, but I have a small collection of them from 0.5mm - 1.2mm, these I use to drill holes in places were space is at a premium and to clean out or enlarge holes in blocks.
The bent twisted needle has a job to do and that is to be able to get to hard to reach places without undoing anything that may well be sealed or permanently tied.
See the photos below.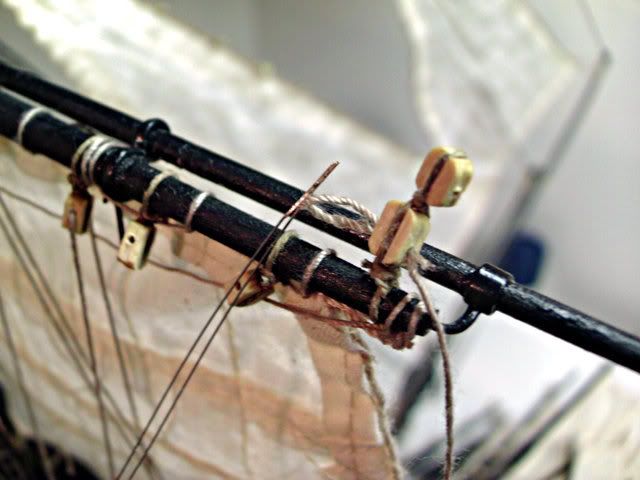 Steve..
PS As Mark mentions below the common needle threader can be use for passing thread through a block.
The advantage of using a needle is that it is easier to pass the thread in amongst other rigging threads as it gives you some thing to focus on and get a grip of with tweezers. The weight of the needle will also find its own way through the pleathora of rigging that will soon infest your build.
The needle will become invaluable once you start to use it, and for about 60p it wont break the bank
Instead of adding another tips thread I am posting an extra bit of information here, regarding the use of a needle to help with seizing. A better explanation is included in my build diary.