I got some of the Eaglemoss Endeavour series from a dealer on Ebay to build the cross section (Issues 101-125), although I'm missing issue 125 with the sails. I bought it, but it didn't turn up in the parcel, so the dealer refunded me. Having seen some of the builds on here , I was already aware the quality of this one wasn't brilliant, and it certainly isn't up to the standards of the La Bretagne. I guess this is to be expected from Eaglemoss - I built their 3d printer, and to be honest it was a piece of (I must not use naughty words), their customer "service" was a joke, and the magazines were garbage, obsolete before they were published - I'm still waiting on the last 2 binders for it which they never supplied.
Anyways, on to the build. From the off, the instructions are suspect. They tell you to stain the cross beams walnut colour, but the pictures show something else. Later they stain the hatchway surround walnut, but show a totally different colour. I decided to use some Ronseal teak woodstain that I'd used for some kitchen cabinets, and Everbuild Mahogany for the frames. This shows progress up to issue 103, with the frames assembled and fixed to the keel.
For the next bit, wierd instructions again - they tell you to use 2 spacing pieces, fix 3 planks, then remove the spacing pieces, only to refit them 3 issues later ! No way - fix them from the start. Now completed up to issue 106, except for painting 2 barrels. The decks are not yet glued in place.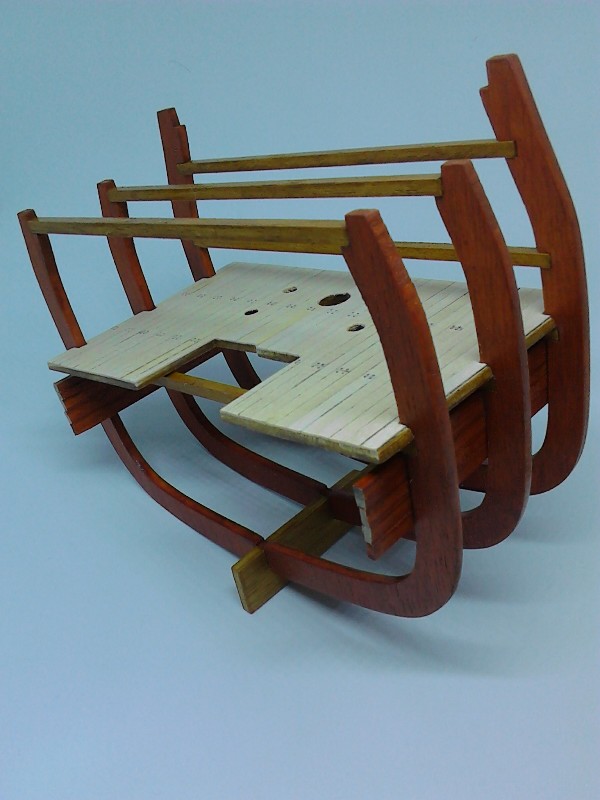 David Bird